dear dashboard weather widget: there is NO WAY that it is 57° (F, obviously) outside. it is too warm and too nice of a day outside for that to be the case. please re-calibrate yourself.
love,
glenn
—
i just checked the mail, and there's nothing for me other than a little postcard from rolling stone magazine:
Dear Glenn Ftzpatrick,
Your current Rolling Stone subscription will be ending soon. As requested, your subscription will continue annunally and your account will be billed at the end of each subscription term. You'll be happy to know that with your next term, you'll enjoy our guaranteed low rate as part of your Velvet Rope Privileges.
Thank you for subscribing to Rolling Stone.
i've not paid for a single issue at all, and yet they still send it to me. i don't even read it! how, you ask?
when i bought tickets to music midtown last year the site said "hey, thanks for using us to buy your ticket, you get a free subscription for a year for rolling stone!", and i figured "ok, whatever." since then, i received one bill from rolling stone for $12.97 which i had no intention of paying (hey, i had been promised a free subscription!), and so i chucked that into the trash. it said if i didn't pay, they'd cancel my subscription, and i figured GOOD because i didn't even read it.
how is it i still get it in the mail?
i couldn't even find the info about the magazine subscription i'm getting, i had to find this off of another one of their ticketing sites… shady shady! 😛
charge my credit card i used to place my ticket order?? i don't think so. 😛 time to cancel this subscription…
so anyway, i'm looking at their site right now and i managed to find their subscriber services section…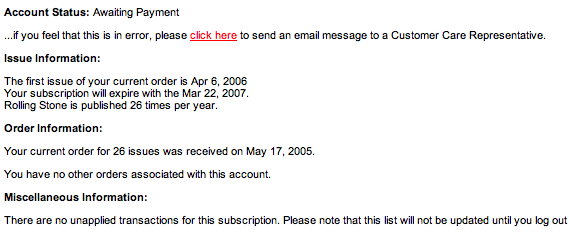 okayy… so, my current order was received may 17, 2005, and there are no other orders associated with this account. the first issue of that current order is april 6, 2006. since they say i don't have any other orders, good luck getting any money from me for this april 6 shenanigans! two can play at this game, though; one thing i've picked up on from people submitting requests for their phones to be disconnected at work is that instead of saying "i want this cancelled upon receipt of this message", they say instead "i want this cancelled as of the date of this request" and then they include the date – this way, no matter when they get it, they've got to honor it as of that date specified and not some arbitrary date. so, requested as of today (march 11, 2006) for them to cancel my subscription – this way it'll get cancelled before any other orders magically become associated with my account.